This is the website of four ERC-related projects: ERC-CoG NICHOID, ERC-PoC NICHOIDS, ERC-PoC MOAB and MIUR-FARE BEYOND. The projects are all led by Prof. Manuela T. Raimondi and based at the Department of Chemistry, Materials and Chemical Engineering "Giulio Natta" of Politecnico di Milano (Italy) .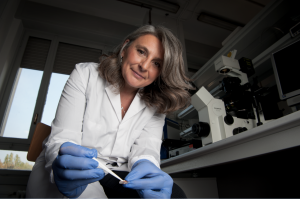 Brief profile of the PI: Prof. Manuela T. Raimondi
I developed my career at Politecnico di Milano, where I graduated in Mechanical Engineering and completed my PhD in Bioengineering in 2000. I am currently a Full Professor of Bioengineering at the Dept. of Chemistry, Materials and Chemical Engineering "G. Natta". I teach the course "Technologies for Regenerative Medicine" at the MS program in Biomedical Engineering . I am the founder and head of the Mechanobiology Lab and the Interdepartmental Live Cell Imaging lab. Here, we develop frontier tools for bioengineering research, such as nanoengineered stem cell niches and miniaturised windows for intravital imaging. Our long-term goal is to develop the potential of stem cells as tools in regenerative medicine, cell modelling and drug discovery. I am currently founding a start-up company that develops frontier tools for biological research.
Photo by Gerald Bruneau, courtesy of Fondazione Bracco and Centro Diagnostico Italiano.